Forfar Removals is an experienced family run removals, storage and self storage business with an excellent reputation and 5-star satisfaction ratings both locally and nationally.
If you wish us to carry out work on your behalf, you can be assured of the highest level of care and professionalism in the consideration of your interests and the handling of your goods.
Staff
Forfar Removals are a family owned and run business and we are extremely proud of our staff for their loyalty, dedication and work ethic. Staff training, input and ideas have been the major factor in building our business over the years.
Vehicles
After staff, our major investment is vehicles and although specialised vehicles are expensive to buy, they are an essential part of the removal business. At present we have 7 vehicles. With regular scheduled servicing, reliability is our watchword.
Removals
With our fully trained and experienced staff, you can be sure that your move (whether it be local or national, single item or full move) will be handled with the care and attention that your goods deserve.
Commercial
We do appreciate that office moves can have an impact on your business. To this effect, weekend and out of hours moves are totally acceptable to us. Planning, packaging, crate hire, packing, dismantling, moving, reassembling and unpacking services are all available, with the ultimate objective to fit in with your dedicated schedule to keep your down time to a minimum.
Storage
We can offer a variety of storage options. These include containerised storage in low density crates within our warehouse and self storage units (both internal and external). Customers are more than welcome to visit our storage facilities.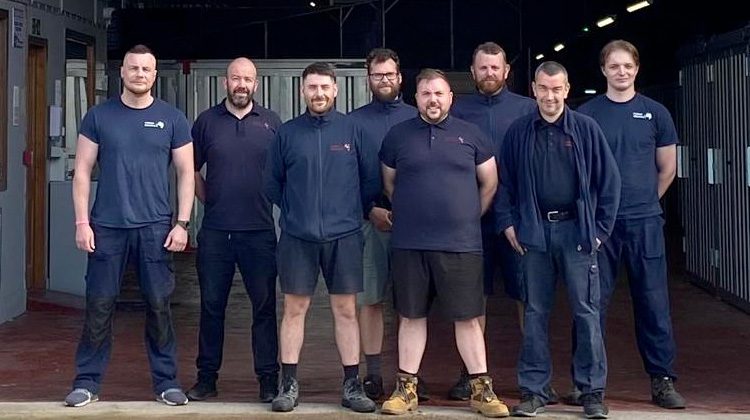 Your Complete Removal Solution
We are proud to have the capabilities and facilities to offer a complete removal package. This includes:
Supply of packaging
Packing and unpacking services
Dismantling and reassembly services
Removal
Storage facilities
No matter how large or small, each removal is treated with the same high level of care and attention.
Memberships
National Guild of Removers and Storers (NGRS)
We have been proud members of The National Guild of Removers and Storers (NGRS) since 2006.
We have once again been awarded Super Elite Honours Remover status. This award is given in relation to the consistently high-level quality ratings by customers on our reviews and exemplary complaints record throughout our membership of the National Guild of Removers and Storers.
In addition to the National Guild of Removers and Storers we are members of the Scottish Guild of Removers and Storers.
Angus Trusted Trader
We are delighted to have recently become a member of Angus Trusted Trader Scheme.
LAPADA – Transport Division
We were extremely proud that in 2006 we were the first Scottish company to be welcomed into LAPADA – The London and Provincial Antiques Dealers Association, Transport Division.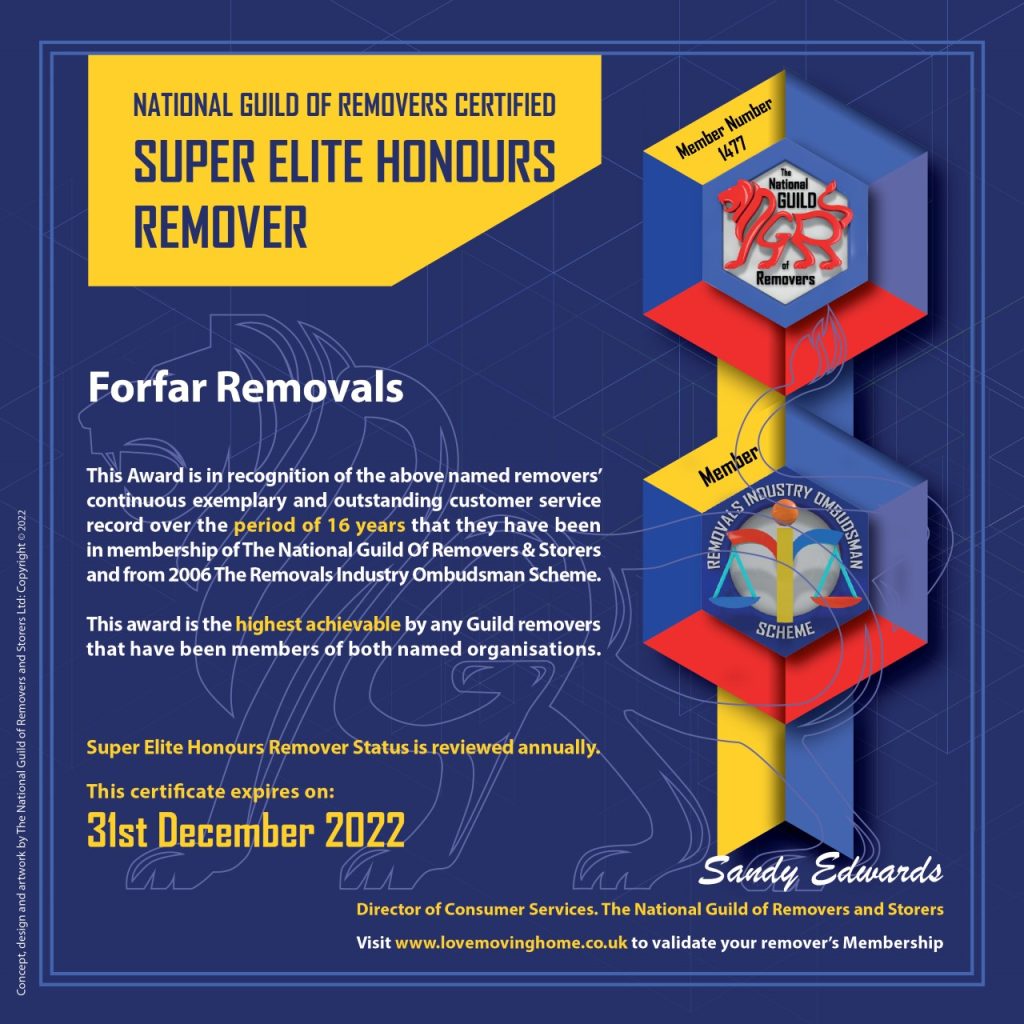 Both the NGRS – Removal Approval and Angus Trusted Trader websites provide a review facility for our customers to view when considering Forfar Removals for their needs. See our reviews sections on the Removal Approval and Angus Trusted Trader websites.
Forfar Removals were recommended by a friend (who's sister had used them) and I cannot thank her enough. From first contact the firm were efficient, reliable, had great communication and were very professional. On the day of our move the team arrived exactly when they said they would and carried out the move swiftly, carefully and respectfully.
After my removal company left me in the lurch due to Covid issues, Forfar Removals found the space for me in their schedule and provided exactly the service I needed. Part removals, part storage. Staff exceptionally professional with real respect for my property and my goods. Also went the extra mile to find my wallet which was inadvertently left in a dressing table which had gone to storage. Returned intact. Highly recommended, do not hesitate to, well priced even when I was in a 'corner'!