Storage
Forfar Removals offer a range of long and short-term safe and secure internal and external storage and self storage facilities.
Our Facilities
In our 30,000 square feet of storage areas, we utilise low density 250cft palletised wooden containers, 20ft outdoor self storage containers and a variety of indoor self storage units
Insurance
Our premises are fully insured, alarmed and monitored to ensure the safe and secure holding of commercial and domestic goods.
Domestic Storage
Whether you require a single item stored or complete household storage, we have the capacity and expertise to suit your requirements.
Household goods are held indoors in individual containers that are expertly packed and sealed until the time comes to reunite you with your goods. In order to ensure suites and sofas are not damaged during their time at Forfar Removals, we wrap them and store them separately on specially designed racks.
Our secure storage facility is designed and set up to avoid any movement of containers while goods are stored inside, this minimises the opportunity for goods to be damaged.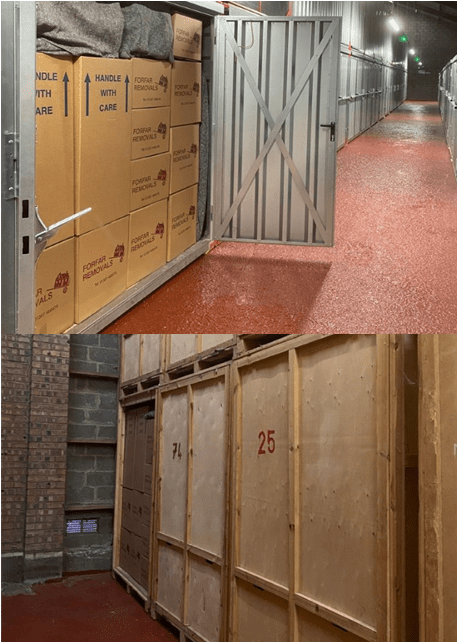 Commercial Storage
We have a secure storage facility that offers flexible storage space for your temporary decant, expanding business, excess stock, tools, machinery and archiving.
Indoor and outdoor self storage, long-term and short-term storage options available.
We are happy to accept deliveries on your behalf which can be held and/or delivered to you at a more convenient time. In addition, we can organise your goods in an accessible manner that assists you and your business.
Archive Storage
If you are looking to free up valuable office space then we offer competitive archive storage.
Forfar Removals have specially designed archive containers available where you will have your own individual archiving resource.
Archive boxes can be purchased in our packaging section.
Self Storage
Our self storage facility is available for your convenience to give you access to your items as you require.
With both indoor and outdoor self storage options (a range of capacities available), Forfar Removals have the facilities to meet all your self storage needs.
Our individual storage containers provide a secure facility for safe keeping of your items.
Our outdoor containerised storage area is floodlit and easily accessible for your vehicle to aid loading/unloading.
Collection and Delivery of Stored Goods
We are pleased to offer you a collection and delivery service in connection with all of our Storage facilities.
Our experienced removal team will collect and pack your goods safely in your own individual containers.  Containers are then sealed and recorded.
Delivery of goods to your new home or premises can be organised to suit your needs.
Forfar Removals were recommended by a friend (who's sister had used them) and I cannot thank her enough. From first contact the firm were efficient, reliable, had great communication and were very professional. On the day of our move the team arrived exactly when they said they would and carried out the move swiftly, carefully and respectfully.
After my removal company left me in the lurch due to Covid issues, Forfar Removals found the space for me in their schedule and provided exactly the service I needed. Part removals, part storage. Staff exceptionally professional with real respect for my property and my goods. Also went the extra mile to find my wallet which was inadvertently left in a dressing table which had gone to storage. Returned intact. Highly recommended, do not hesitate to, well priced even when I was in a 'corner'!